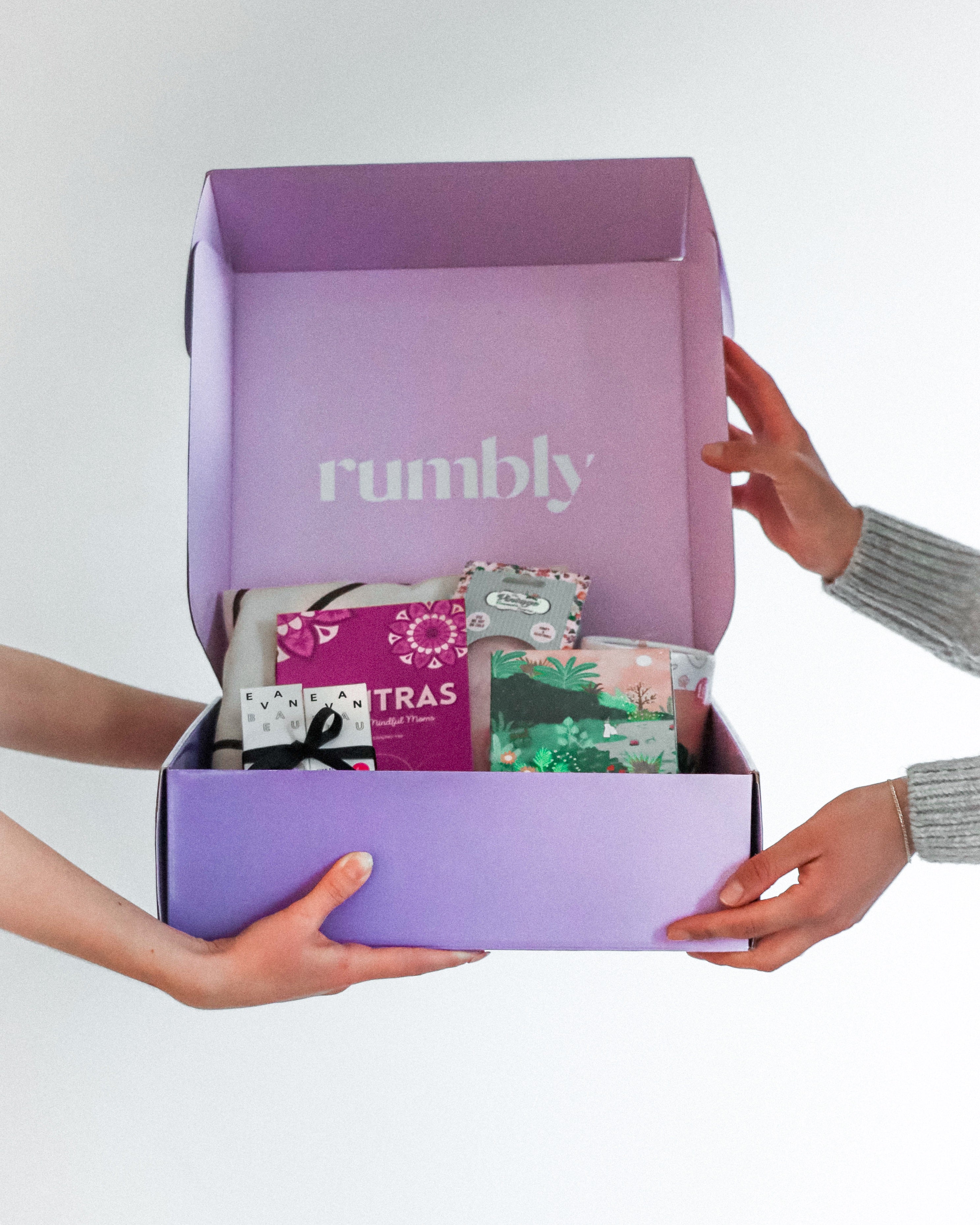 If you made it to this page, welcome! We're so glad that you did. This exclusive Rumbly box features the perfect collection of all the must-have items every mom needs to reset and keep moving forward. It's the ideal gift for the mom who deserves more celebrating, more pampering and a little reminder to make herself a priority. Give her a gift that stands out (no real occasion necessary) because, well, she totally deserves it!
This whole collection is a strong reflection of the stellar collaboration among other indie female entrepreneurs across several geographies. Each product has a specific function to help Mom reset and build new routines that she'll soon be thanking you for! 
Here's a peak of what's inside: 
To NOURISH: Leaves of Leisure Bath Time Tea
To DISCONNECT: Ordinary Habits A Moment in Paradise Puzzle
To EXPLORE: Rumbly Exclusive Take Me Anywhere XL Tote Bag
To RENEW: Evan Beau Essential Regenerating Night Serum 
To SOOTHE: Vintage Cosmetic Company Gel Bead Eye Mask
To MOVE: Rumbly Exclusive Ankle & Wrist Weights
To REFLECT: Momtras Mantras for Mindful Moms
Over $225 in value!
Includes Free Shipping to anywhere in the U.S. or Canada
Got questions?
We've got answers!
Who is the Reset & Go box best for?
Every mom who could use a little more encouragement to carve out some 'me-time', while discovering a range of new premium products that she will be gushing over!
We currently offer FREE shipping to anywhere across North America.

For inquiries about other geographical locations, send us a message and we will see what we can do!
When will I receive my order?
We will mail your first box immediately after you place your first order. Average delivery time takes around 2-5 business days depending on which city, state or province you're located in.

Once the carrier has your order you will be provided with a delivery tracking number, sent to you via email. At any time you can contact us with questions about your order or delivery.
Can I add a personal gift note in the box?
Absolutely! You will have an option to write your personal message before checking out, which we will then transcribe onto elegnat Chinese paper and place inside her personally currated gift box. If there is any other way we can help elevate her box and make it more special for mom, please send an email to marnie@rumbly.co and we will do whatever we can to make that happen for her!