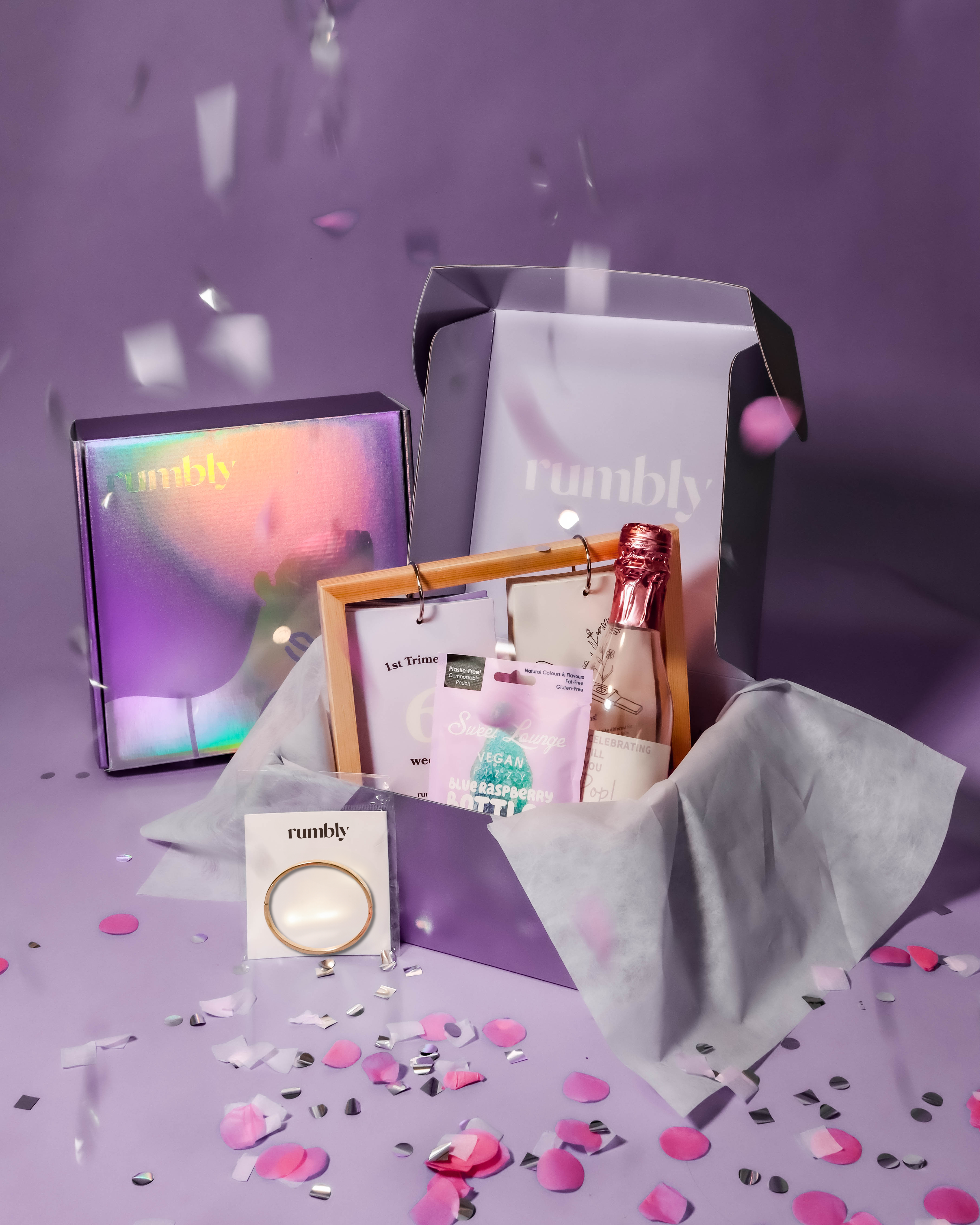 Just Found Out Pregnancy Gift Box
SKU:
The perfect gift box for when you find out that she found out! This mini box is the perfect gift to give when she tells you her big news! 💜
Why You'll Love It:
We designed this box to be the perfect gift to make any new mom-to-be feel more celebrated, supported and pampered - the perfect way to start her journey from bump to baby! We curated and designed luxurious surprises and f mom essentials inspired by what we wish we would have received when we first found out, so you can gift this perfect mini box knowing she'll love it!
What's Inside?
Pregnancy Countdown Milestone Calendar with weekly prompts, insights and a modern display stand
Gold Bangle with signature double hearts engraving
Champagne Celebration Bottle
Sparkling Vegan Gummies from Sweet Lounge
How It Supports:
Makes mom-to-be feel extra celebrated!
A gift that's all about her, so she knows that while she's got baby, you've got her!
Got questions?
We've got answers!
Who is the Just Found Out box best for?
Your friend, daughter, niece, neighbour, colleague, etc. etc.
But seriously, the Just Found Out box is THE perfect gift to give any expecting mom-to-be. Inspired by all the things we wished we got when we first announced our pregnancy, this stellar collection of goodies are each intended to celebrate and support her throughout the next 9 (ish) months. And did we mention the stunning gift box it comes in?! All wrapped up and ready to go :)
Is the Just Found Out box only for first time moms?
Definitely not!! Whether first or fifth time mom, this is the one box she needs the most!
We currently ship to anywhere across North America.

*For inquiries about other geographical locations, send us a message and we will see what we can do!
Can I add a personal gift note in the box?
Absolutely! You will have an option to write a personal message before checking out, which we will then transcribe onto elegant Chinese paper and place inside her personally currated gift box. If there is any other way you want to elevate her box and make it more special for her, send a note to marnie@rumbly.co and we will do whatever we can to make that happen for her!